1. Log in to your account.
2. Select the green 'Post Load' button.

3. This will bring you to the editable 'Post Load' page.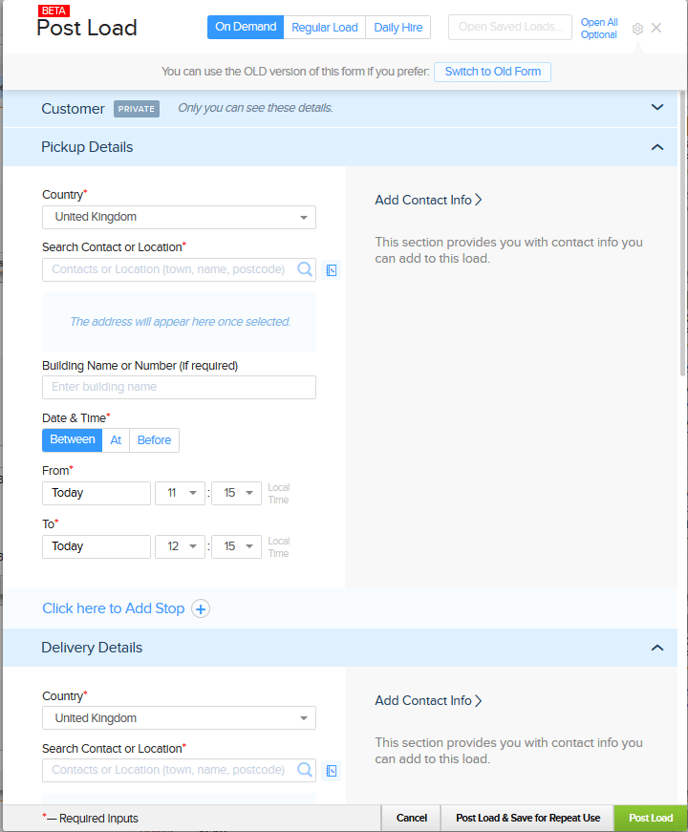 4. Complete the boxes with the areas you wish to notify members where this load is available. Every area marked with an asterisk (*) is mandatory.
Note: Please only fill in the postcode or area in the collection and delivery fields, as you are advertising this load to all members. And you don't want other members to know who your client is until a member accepts this load. Make sure you specify the urgency you need to complete this load such as ASAP or between time and/or date. Job description details such as suggested vehicle and whether to deliver direct needs to be chosen as well as if it's a Hotshot or Backload.
5. You now have the option of leaving any notes for the member/driver.
6. If you are happy with this booking, you can now select the 'Post Load' tab marked in green.
7. Choose when your load goes live. You will see a menu appear in a few seconds asking you whether you want your load to be cancelled or re-posted if it isn't sold.
8. Now press 'Save' marked in green. Your post is now completed.