1. Log in to the Exchange using the main website: https://cx.transportexchangegroup.com/auth/login
(Posting a load cannot be done on the mobile app)
2. Click on 'Post Load'.

3. Enter the job details of the load.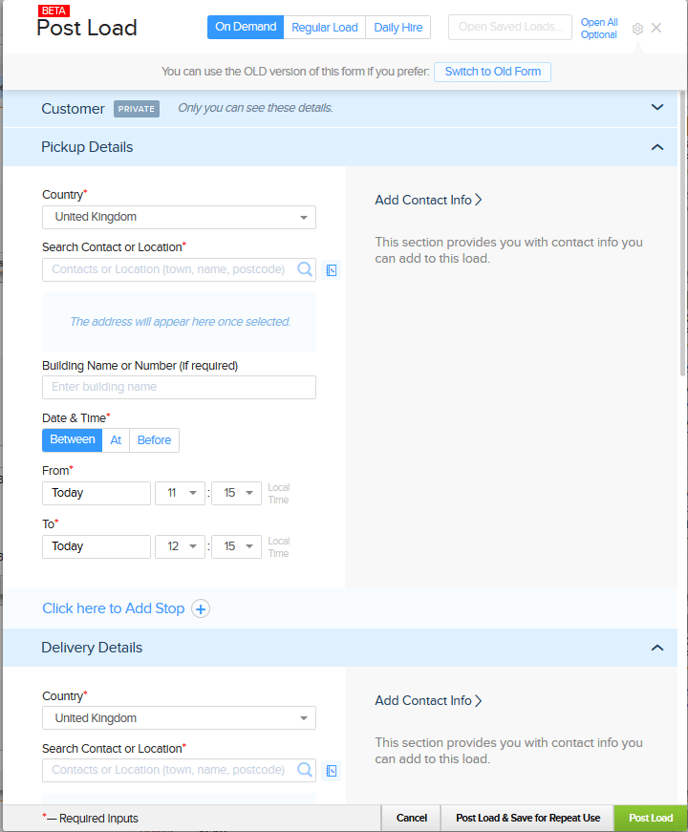 Make sure you fill in all the areas to give members as much information as possible about this load you've just posted. Every area marked with an asterisk (*) is mandatory.
Important note: Only insert the postcode or location in the 'Pickup Details' and 'Delivery Details' fields as you are advertising this load to all members. You don't want other members to know who your client is until a member accepts this load.
If this load needs to be transported urgently, we advise using the word 'ASAP' in the description. You can also make use of the 'Between', 'At', and 'Before' buttons to provide accurate delivery expectations.
Job description details like suggested vehicle types must be mentioned. You also need to specify whether the load is to be delivered directly or via Hotshot or Backload.
You also have the option of leaving notes for the member/driver.
4. Once you're happy with the job details, click 'Post Load'.

5. The final step is to finalise your decision to post a load. A drop-down menu will appear in a few seconds asking you if you want your load to be cancelled or re-posted. If you're happy with everything, simply click click the 'Save' button.
Hoorah! Your load post is now completed. 😀👍